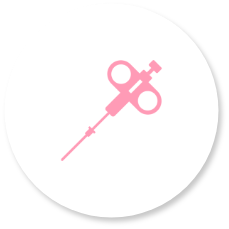 Biopsies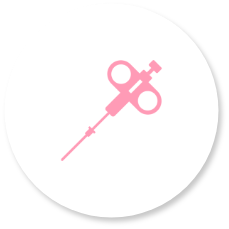 Ultrasound Guided
Fine Needle Aspiration Biopsy
Using ultrasound guidance, a breast physician uses a very thin needle to collect a sample of cells from the area of concern. Local anaesthesia ensures that this procedure causes minimal discomfort. The sample is prepared on a slide, then analysed immediately by our on-site breast pathologist. The pathologist will make a diagnosis or suggest a further biopsy if more information is required. The patient will receive this provisional diagnosis on the day.
Core Biopsy
Similar to a fine needle biopsy, a core biopsy is performed under ultrasound guidance, after injecting local anaesthetic. Whereas a fine needle biopsy collects cells, which can be analysed immediately, a core biopsy collects a larger tissue sample, which must be prepared and analysed in an offsite pathology laboratory. As such, the final results are not available on the day, but are generally provided within 2-5 working days.
Mammogram Guided
Stereotactic Core Biopsy
If an abnormality can be seen on mammogram but not on ultrasound (e.g. microcalcifications), a mammographically guided core biopsy may be necessary, and may help a patient avoid a surgical biopsy. Like the ultrasound guided core biopsy, local anaesthetic is used. The area of concern is targeted and tissue samples are taken. The tissue sample taken is x-rayed to ensure that calcifications are present, and another mammogram is taken of the breast to ensure the tissue marker is in a representative location. The pathology results for these core biopsies are not available immediately, but generally take 2-5 working days to become available.
For both ultrasound and mammogram-guided biopsies, a tissue marker the size of a sesame seed may be placed in the breast tissue after the procedure to mark the site of biopsy for future reference. Another mammogram is taken post marker to ensure the tissue marker is in a representative location.